01/03/2010 Written by Cyril GRANDJEAN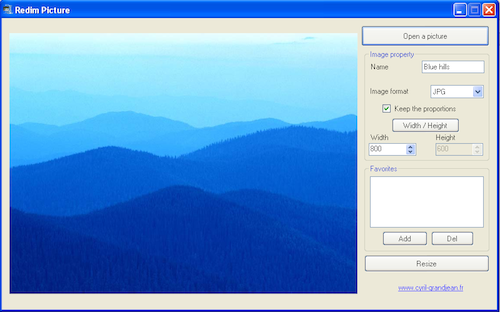 I inform you about the release of a new version of Redim Picture, my software to resize image.
What's new :
Management of the main formats of image (JPEG, PNG, GIF, BMP)
New management of the proportions
Possibility of changing formats of favorites images
Addition which allows the user to save dimensions defined by images
Choice of the path where to save the image
The ancient version of Redim Picture was developed in VB.NET and suffered numerous bugs (Be indulgent, it was my first program 🙂 ). This new version, developed there in C#, is a beta version. Thus, if you notice bugs or if you wish to announce me a possibility of improvement of the software, do not hesitate to contact me.
Description of the program :